" Come unto me, all ye that labour and are heavy laden, and I will give you rest.." Matt 11:28
Greetings and blessings from the Christian Science Reading Room at the San Francisco International Airport. Enjoy the testimonies of our attendants:
A woman came in to give me a bottle of mineral water which she could not take through security. She was from South Africa and had been touring San Francisco. To thank her, I told her a little of Christian Science and how Mrs. Eddy had come to write her wonderful book. She readily purchased a copy of Science and Health. She was given a Christian Science Journal to take with her so that she could see the Journal listings of churches in South Africa.
A woman had been using our Reading Room as a place to "get away" from the noisy busyness of the airport and to also work on her computer on a work project. She has always been courteous and respectful and it has always been nice to have her visit over the last several weeks. Today I noticed her in the corner of our Bound Volumes reading a number of articles. Apparently she was drinking "a cup of cold water in Christ's name," from our virtual well.
A woman who works for the airline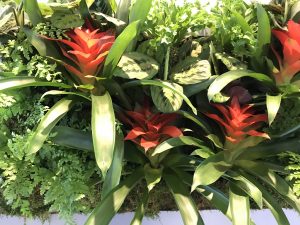 s came in. She said she had always assumed we were Scientology, but tonight she noticed the Children's Bible storybooks which caused her to wonder and to come in and to ask. I explained we are Christian. She took a couple of free Sentinels.   And she said she would be back.
Just before closing last night a young man came in and said, "Oh, I need to talk to you! You're not going to like it but I need to talk to you. Christians don't usually like to hear from me." Of course, we ended up having a fun and light conversation, about many things, and also about God and the Bible and he kept saying things like, "Uh huh, I see that. Yes, that sounds right. So, God is good – is that it?" He had grown up in another denomination and had left it behind. He was shown a whole other branch of Christianity that was not fire and brimstone.
A woman came in looking a bit down, and told me she decided to leave the corporate world to follow her love of art. After cashing in her assets, she was beginning to doubt her decision. We discussed knowing that as we pray to God, humbly, we can only expect His loving support and direction. I read the first line of the textbook to her: "To those leaning on the sustaining infinite, to-day is big with blessings!" (S&H pg. vii)   I gave her some Christian Science Sentinels with articles on "Keeping our Prayers Generous" and "Spiritual Education." She beamed with this new awareness of God's loving guidance and parted with saying, "I just felt guided to come in here and now I am glad I did!"
A wonderful visitor came in with his son and were introduced to Christian Science and the writings of Mary Baker Eddy. He told me about his daughter who had never spoken. She was 20 and in college, and she was mute. He was told that Christian Science could heal her.   He was told a little of Christian Science and how Mrs. Eddy came to write her book. I asked him if his daughter wanted to be healed. He said, "Of course! That is like asking, "Is the sky blue?" He asked, "What makes you think she hasn't been prayed for by many people, and why haven't they healed her." I told him "Because of their unbelief!" Also, truly it might have something to do with the child and where her heart is with muteness. Some topics are very delicate, but Christian Science can and will heal her, if she wants healing. She was given a provisional Christian Science treatment contingent upon her willingness to be healed. The story of Naaman was in the Christian Science Bible lesson that week. The prophet Elisha told Naaman to go and wash seven times in the river Jordan. He put the healing in place and when Naaman was ready, he went down to the river Jordan and washed seven times and was cleansed. The girl was given essentially the same kind of treatment. She just has to try to speak! "Let us feel the divine energy of Spirit, bringing us into newness of life . . . "(S&H pg. 249)
A lady began reading the window, and then came in and asked to look around. She asked about our hours and how I came here. I told her how my predecessor had taught me how to share what we have and who we are in ten minutes. She learned a little about Christian Science. She asked about Christian Science and Christianity and she was shown the tenets and read them aloud from our desk copy of Science and Health. Then, she was told how Mrs. Eddy came to write her book and how she started her church. I explained that Christian Science heals everything, not just the body, but that the focus of the book is health and healing. She said, "I will take one." She then shared that she was a nurse, and that she prayed for her patients. I said you will love this. She asked for our card in case she has questions. I even wrote my name and personal phone number on the back.
A family was having their picture taken in front of the Reading Room. I went out to talk to the family of five and was told they were Christian Scientists and attended the church in Accra, Ghana. They were surprised to see a Christian Science Reading Room at the airport and wanted to take a photo of it to show the people in Ghana. Then early Sunday two young gentlemen came in beaming and told me they were also Christian Scientists from Ghana! They were born and raised in Science in Ghana and class-taught there! I was thrilled and honored to meet them and they were thrilled to come into a Christian Science Reading Room in an airport. I welcomed them to San Francisco!
A visitor came in last night and asked me a lot of questions, and I told her of little of Christian Science. She purchased Science and Health from us and began to study Christian Science from it.
A man came in and asked if he could sit down for a few minutes. I gladly welcomed him in. Then he came back and asked if I knew of a paramedic. I asked what was wrong, and he told me he had fallen here in the airport when a child had run into him. He had bumped his head. I readily shared that I was a Christian Science healer and God would gladly heal that right now. He readily agreed. I told him that he was a perfect child of God because it says so right here, and I pointed to the Bible. I said it is God's will for you to be well and we do not go against His will. And further, there are no concussions in Divine Mind, which governs all! I shared my own healing of the belief of concussion. He smiled and said that he was in no position to argue with me. He sat for a few minutes and walked out healed. Christian Science heals everything.
A woman walked in declaring, "How nice to have a Reading Room to go to!" She commented that she discovered Mary Baker Eddy's poem and hymn, "Feed My Sheep," as she went through the 12-step program with Alcoholics Anonymous, a recovery group. We discussed life and went over thoughts on spiritual renewal. She left with a Sentinel and a copy of the hymn "Feed My Sheep" from the Christian Science Hymnal.
A woman came in and asked a reverse question, "You don't sell Bibles do you?" I said, "Yes, lots of them." I pulled four different issues of the King James Version and she selected the little midsize for $20. She got her cash out, and she only had $19. I said, "I'll take it!" Then I said, "If you are coming back tomorrow anyway, please buy this companion book," and I pulled out Science and Health. I told her it would light up the Scripture for her because it presented the spiritual interpretation and understanding of it. She asked how much it was, and I told her $13.00. She said, "Can I just take that?" I said, "Of course!" And then she said, "Do you take donations?" I told her we did, and she let us keep the change of $6. She would not take change! What a lovely visitor!
I heard a man ask someone how to get to the car rentals. I went out to meet him and answer his question, and invited him to the Reading Room. I offered him free literature and he left with two Monitors, a Sentinel and the brochure, "What is Christian Science?" I would not have met him if I did not obey the angel voice to reach out to help.
A woman with a beautiful baby was outside our window in the vestibule and I was admiring her baby when she came in and asked where she could get a ride with a baby car seat? I had no idea but suggested Uber and Lyft, and told her that the taxis were downstairs. I began to tell her about BART but she was going to Dolores Street and BART doesn't really go there. But I told her I would pray for her to be given the correct transportation that she required. She came back and gave me a big smile and a thank you with her thumbs up; she had found her Uber ride with the car seat!
A young woman came in who said she was from Brazil and a Christian, but who had some deep concerns dealing with criticism towards her within her church. She asked her pastor to pray for her. I told her that God is Love and loves her and her accusers equally. We discussed the importance of loving God and mankind unconditionally, and how she has every right to pray directly to God. She purchased the booklet, "Possession" and I gave her a couple of Sentinels and a brochure on Christian Science. She left with a bounce in her step!
A man read the window and came in and asked if I had a Spanish Bible, Santa Biblia. I showed him the three I had. I then decided to show him the newest Spanish translation of Science and Health. I told him it was a wonderful book that would light up the scripture. He readily purchased the Spanish translation of Science and Health, entitled Ciencia Y Salud. He asked if I was Christian. I said "Yes, Christian Science." He then asked, "Pentecostal?" I said "No, Christian Science." He said, "Catholic?" I walked around the desk and showed him the pamphlet entitled "Discover the Inspired Word," and read him the first three tenets. He then said he was a pastor. I said, "Oh you will love Science and Health and learn a lot from it." He then had to leave, so I didn't have a chance to explain any of Christian Science to him, but he had purchased the book and it will bless him.
A couple came in to read awhile. He was flying and she was dropping him off. His departure was an hour away but they wanted to go through security to get a better view of the solar eclipse that day. Only ticketed passengers are allowed through, so she came back and watched the eclipse from just outside the Reading Room, which in itself was a healing. That morning our San Francisco fog has eclipsed the eclipse! I had been praying that somehow I would get to see it, knowing I had to be in the Reading Room that morning. As it turns out, we have a fairly new walkway between T1 and T2 that has a partial glass ceiling and some very high transom windows that provided a spectacular view of the eclipse. The fog thinned out just enough around the eclipse that we could see it perfectly. And our visitor had eclipse glasses to share the view not just with me, but with every interested passerby. The Bay Area got 70% coverage, which is the most I have ever seen in my life. And I had a much better view than from anywhere else I could have been! God truly blessed us, our visitors and the airport customers and staff!
A gentleman came in just before 10 pm, and we talked about his background, which included varied beliefs from India, but he knew the good reputation of the Christian Science Monitor. He was very open to the textbook and I discussed Mary Baker Eddy and her healing, etc.  I sensed a bit of reluctance to pay for the textbook so I treated him to a free copy. He said he was going to read it and bring it back to me in the Reading Room. He is a software developer for a large company in San Francisco.
A woman and her son came in and she was interested in the Gospels, especially the newer ones recently discovered. I showed her the Apocrypha but we do not sell it.   Then we talked about our books, and about Christian Science and Mrs. Eddy's discovery of how Jesus healed. She was shown a hardback edition on the desk that we talk from and she asked if we had it? She was shown the paperback and hardback desk size Sterling editions. I told her this would light up the Scripture for her, in addition to teaching her to heal with Truth and with Scripture.   She liked what she heard, and she readily purchased the paperback Sterling Science and Health.
I was led to go straight to get coffee on the way in this morning instead of stopping at the Reading Room and opening it, as it was early—only 7:20 a.m. The gentleman asked me where I was going (meaning flying). I had luggage (my computer and Wednesday reader books). I answered, "Right over there to the Christian Science Reading Room." He asked if we were connected to the Unitarian church. I said, "No, but Christian Science influenced some of their teachings, as it did Religious Science." We struck up a conversation about Christian Science and I invited him to join me in the Reading Room, which he did. I spoke a little about Christian Science and Mary Baker Eddy's discovery of how Jesus healed, and he was happy to know who we were.
A man came in to the Reading Room to ask the attendant what this place was. She told him a little of Christian Science and gave him a Christian Science Sentinel and Monitor as examples of our literature. He then asked about our churches and the attendant gave him a Christian Science Journal. He was delighted to find that one of our churches was only 45 minutes away! Then the attendant told him to read a little of Science and Health. She gave him the book and suggested he read the chapter on prayer. He went into the study room, read it, and came out and purchased a Sterling Hardback edition of Science and Health.
A man walked in and quickly sat down, and said he was the soloist at a Christian Science Church some years ago; and that he knew about Christian Science. He then said he was recently in jail and a Christian Science chaplain gave him "something like a magazine that had both the Bible and the other book, but it was taken from me." I replied, no worries, our gift to you!" As I handed him a September full-text, his face lit up, and he quickly left.
A young woman came in and wanted me to explain Christian Science. She spoke very little English, but she understood it very well. As we talked she said she was Mongolian and I wondered if we had any literature in Mongolian. She was offered a Japanese Science and Health but she was very sure that that was not what she wanted. I asked if she could read English and she said, "Oh yes." I gave her a Science and Health to read. She spent over and hour sitting here at the desk just reading Science and Health, and as she read, she would look up words on her phone and often nod and read on. Then she very graciously nodded and left saying "all her questions had been answered!"
A young man came in asking, "What is this?" I began to tell him a little of Christian Science and Mary Baker Eddy and how Mrs. Eddy figured out how Jesus healed and wrote a book about it. He immediately told me he needed a healing. (His issues were lack of self-esteem, lack of a sense of purpose, and sense of productivity and accomplishment that he has had since childhood.) I said of course, and began to finish my explanation. He interrupted again and I assured him that the waymarks of his journey would be clear, that he would be shown what he was supposed to do, and that divine advice is always loving, clear, helpful, and repetitive. "This is the way, walk ye in it when ye turn to the right hand and when ye turn to the left." I am so happy to share Christian Science with the public and to have the opportunity to pray for the world in this beautiful, quiet, and watchful setting immersed in the Christ, Science.
This Reading Room is supported by many Christian Science Churches and individuals.  The seven participating churches in the Bay Area who each hold a seat on the board are:  First Church, San Francisco, Ninth Church, San Francisco, First Church, Danville, First Church, Hayward, First Church, Los Altos, First Church, Menlo Park, First Church, Palo Alto, First Church, San Rafael.
We extend our heartfelt thanks to the Christian Science churches and individuals for their interest in and support of this Reading Room. For comments, questions, or to send a donation, please mail to:
Christian Science Reading Room Jointly Maintained
Harley Bennett, Treasurer
23871 Willows Drive, #384
Laguna Hills, CA 92653