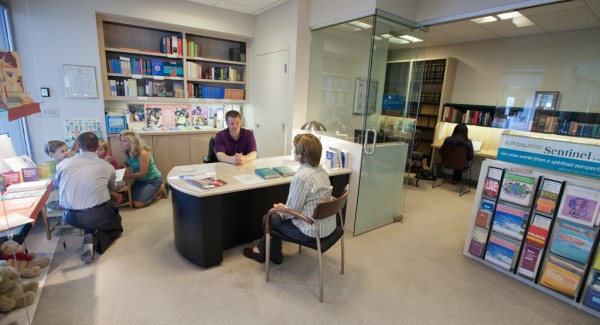 The largest part of the Reading Room is a glassed-in "quiet area."
If you are inside the "study room," you can close the door – the hubbub of "the outside world" can fade.
Here you can let the voices of those who've been healed by spiritual messages contained in The Bible speak to you directly – through quiet contemplation, through reading The Bible (available in 12 languages), through perusing Biblical commentaries (wide selection), or through listening to recorded music that harkens to timeless Biblical themes of renewal and salvation from fear, pain, disease, and discomfort.
If you are a Christian Scientist, or curious about Christian Science, you can dig into the current Weekly Christian Science Bible Lesson (marked for the current week). Or you can review up to 100 years of recorded healings offered through the Bound Volumes of the Christian Science Journal and of the Christian Science Sentinel.
Chairs? Two comfortable ones at either end of the room are popular both for reading or for quiet reflection, prayer, or meditation.
Music that's probably not on your iPod (but maybe should be)? Over 30 uplifting CD's await your sampling for your day, weeks, and years ahead.
Children with you? You might like to introduce them to our children's area; whether you keep the door between rooms is up to you (and others who may be in the study room).
Our guarantee? You stop in to be "quiet" that's what we'll let you be. No one will "bother" you, ask you your beliefs, or who you pray to. All are welcome; your rejuvenation is why we are here!