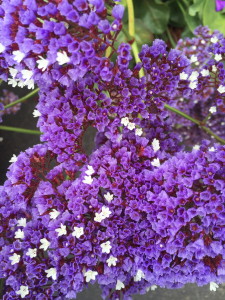 A wonderful woman from India came in and asked if she could spend some time here. I invited her in and said yes of course. I asked her if she knew anything about Christian Science and she said, not really but that she knew Christianity. I introduced her to Mary Baker Eddy and the spiritual interpretation of the Scriptures and how Mrs. Eddy had come to write Science and Health. She asked if the book was for sale and I immediately showed her the marble paperback edition which is perfect for travelers. She handed me her credit card and asked for my card so we could continue the discussion online. I gave her our card and my personal Christian Science healer card. She asked me to walk her out and give her some guidance on how to help her memory, which I immediately did. I blessed her travels, which we do here at the reading room at the airport, and then sent her an email thanking her for coming in. What a blessed day. This all took under ten minutes. She made my day!
---
A lovely woman came in to ask if we had Bibles and asked me to recommend the best one. I showed her what we had, but shared my preference for the King James Version. I also shared a little history of how Mary Baker Eddy discovered Christian healing, and eventual authorship of the Christian Science textbook. She happily purchased our Sterling Hardback Bible and a marble paperback Science and Health. She said she was visiting her mother here in the Bay Area. She ended up giving her mother the Bible, and came in Sunday evening on her way back to Chicago and purchased another Bible for herself. In fact she called ahead to make sure we had one, as she was certain she had purchased the last one on the shelf. Interestingly, I ran out of them and ordered two more. Then when I looked underneath the sales shelves I found two more and a whole stack of Sterling editions, which I forgot I had put away. As it turns out I was divinely guided to order the extra books! Of course!
---
A very gentle woman came in and ended up spending the day with us. We, of course, had only one current Christian Science Monitor and she read it, and then happily purchased it. I let her leave her stuff while she waited for her companion to arrive, and she lunched at Green Beans Coffee in full view of the Reading Room. She returned refreshed and I told her a little of Christian Science. She happily purchased a copy of the textbook. She asked me many questions, and I had answers which come directly from Divine Wisdom. She asked about the church's position on gay marriage. I told her the church takes no official position on any matters like that. Each member thinks it through. She loved that. We talked a lot about death and sorrow because she had just buried her mother in April and her father two years ago. I shared the story of the woman, who had lost a loved one and upon leaving Pearl Harbor, HI in December 1941 in great sadness, was watching the seagulls playing in the water as the ship pulled away. She noticed one seagull that rose higher and higher circling above the feeding parry, and go so high she eventually could not see him. She understood that death really isn't death but just a passing on from earth, and she was greatly comforted. She will be back to see us I am sure. It is such a blessing to work here at the Christian Science Reading Room.
---
On Saturday a beautiful young woman came in and asked if we had Bibles and other religious books. I told her that we primarily sell the writings of Mary Baker Eddy and the Christian Science Publishing Society, but that we had quite a few Bibles. I introduced her to Christian Science and the writings of Mary Baker Eddy, and she happily purchased a textbook. I emailed her and thanked her for her visit and told her about our website.
---
A young man from Santa Cruz came in today and asked to sit down, which I readily invited him to do. He had been in Christian Science Reading Rooms before, and I asked him what I could do for him. He asked for a healing. I asked what the problem was, he told me, and we treated in Christian Science, talking about his divine likeness that gave him perfection in being, in the likeness of his Father-Mother God. He thanked me and left happily to attend a Grateful Dead concert. He shared that he has visited Christian Science Reading Rooms elsewhere with excellent fruitage, and was open to healing.
---
I know I repeat this, but we get amazing visitors. It is such an honor and privilege to work here at the Jointly Maintained Reading Room.